About Us

These historical and genealogical documents were published in Texas by J. Marvin Hunter from October, 1923 until December, 1954 under the title, J. Marvin Hunter's FRONTIER TIMES MAGAZINE. In the 1970's, Western Publications reprinted most of the volumes. Reprint hard copies and collectable originals are available on request.
Mr. Hunter published his periodical during a time when early Texas settlers, pioneers, cattlemen, and observers of the events of Texas history were still alive and able to tell their stories. This is one of the most valuable assets of this magazine. Its articles are written largely from the vantage point of the eye-witness observer or actual participant in the event. Mr. Hunter sought to gather as much of this eye-witness testimony as he could before the generation of these settlers passed on.
These magazines are highly sought-after and are of almost unparalleled value to historians, collectors, and genealogists.
They are rich in first-hand accounts of formative pioneer events: early settlers and frontier expeditions, soldiers, Rangers, Indians and outlaws; of battles, privations and tragedies; of riches won and lost, of mines, and hidden treasure.
No modern revisionism here, just the facts: bold, bloody and accurate.
Each magazine is also a voluminous resource of genealogical data: family names, ancestors, relations, locations, employments, relocation's, birth-dates and death-dates.
For many years, researchers of Texas history and Texas genealogy, and folks who just love Texas and frontier history have found these magazines a hidden gold mine of information. Because of Mr. Hunter's commitment to solicit his stories from from the folks who lived the history themselves, there is information in these volumes that cannot be found anywhere else. But he also gathered stories from reputable historians and writers such as T. U. Taylor, J. Frank Dobie, Col. M. L. Crimmins and others, as well as documents from old newspapers, court records and personal testimonies from those who were part of the shaping of the Texas Frontier and other areas of the Southwest during the 1800's.
In these volumes you will also find much in the way of Indian lore, Mexican-American history, and the history/genealogy of surrounding regions, especially, Indian Territory (Oklahoma), New Mexico, Kansas and Arizona. J. Marvin Hunter had the highest regard for historical accuracy in whatever he included in his publication. In many cases, when an inaccuracy was discovered, Mr. Hunter unashamedly and readily published the clarifications, making this periodical an undisputed authority on historical and genealogical data In 2004, the full and exclusive copyrights to all of these treasured magazines were awarded to FrontierTimesMagazine.com.
It is our aim to provide the genealogical, historical research and literary archivist community with quality-minded and technologically advanced means to access these historical masterpieces. As Featured On EzineArticles
---
You can buy Hunter's Frontier Times Magazines in a number of different ways.
PDF Format
Instant Delivery
Electronically Searchable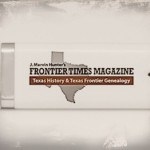 PDF Format
Free Shipping
Electronically Searchable
Select Hard Copies in First-edition Originals and Hard Copy Reprints
Free Shipping
Available on request, or check out our specials here
These make great gifts for families and relatives mentioned in the issues