Blog
Jack Hays, the Famous Texas Ranger
Jack Hays, the Famous Texas Ranger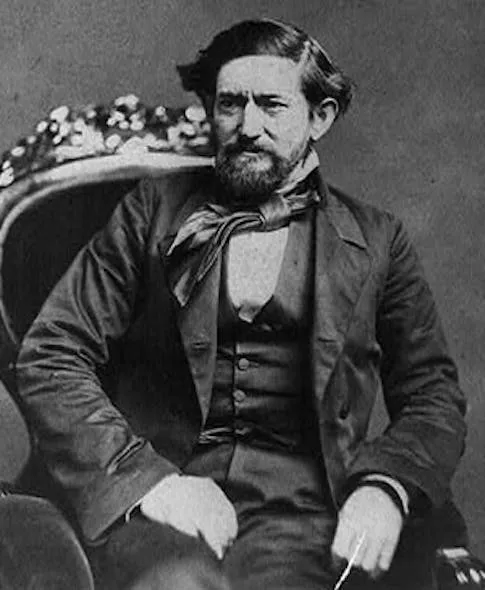 From Hunter's Frontier Times Magazine, October, 1923
In the annals of the Republic of Texas, few figures shine as brightly as Captain Jack Hays. He stands out among those who displayed remarkable talents during this era. Hays was a true guardian of the western border, engaged in over forty encounters, defending San Antonio and Southwest Texas against outlaws and indigenous tribes.
Government records of his time celebrated his patriotism and heroic deeds, which earned him national acclaim and endeared him to the people of Texas. Yet, today, his name and exploits have faded into obscurity, remembered only by a handful of survivors from the pioneer days and their descendants. These individuals recall Hays as a stalwart defender of the frontier, standing firm against the Comanche Indians and Mexican bandits who threatened their communities.
In times of peril and danger, Hays was a trusted figure, always responding with unwavering dedication and remarkable success. His adventurous and romantic achievements, too numerous to detail here, are a testament to his courage and leadership.
Early Life: Born at Fort Haysboro in Wilson County, Tennessee, on January 28, 1817, Hays faced adversity early in life. When both his parents passed away, leaving him with a younger brother and sister, they were raised by his maternal uncle, Abner Gage, a Mississippi planter. Despite these challenges, Hays received a basic education and gained expertise in surveying. By the age of fifteen, he was employed by land speculators in the region, accumulating savings. His pursuit of a civil engineering education was cut short by the Texas Revolution, prompting his response to Colonel Travis's call from the Alamo.
The Texas Ranger:
Arriving on the Brazos a month after the Battle of San Jacinto, Hays engaged in land surveying in Austin's colony when not called upon by the military. Armed with letters of introduction from President Jackson to influential Texans, he received advice from General Houston to enlist in the ranger service on the western frontier. He joined Deaf Smith's spy company as a private, arriving in San Antonio in late December 1836. There, he participated in the military funeral honors for the Alamo heroes on February 25, 1837. His first combat encounter occurred in March when he joined Captain Smith in hoisting the Texas flag near Laredo, defeating the enemy. After Smith's resignation, Hays joined Dawson's company and later served with distinction under Colonel Karnes. From February 1838 until 1841, he worked as a deputy surveyor in the Bexar district, later being elected surveyor of Bexar County.
The Ranger's Exploits:
Hays gathered a select group of men who aided him in many battles against Comanche Indians and bandits. In 1840, President Lamar authorized him to form a ranger company, marking the beginning of continuous combat against Indians and Mexican bandits. When Woll invaded Texas in 1842, Hays thwarted his plans by summoning 300 Texans and skillfully luring the enemy from the Alamo to the Salado, where the Mexicans faced a resounding defeat. Hays led his troops to the Hondo, boldly charging into the midst of the Mexican army and nearly forcing their surrender, had he received adequate support. Hays held a leadership role in San Antonio, where he enforced martial law until the Somerville expedition was formed. He then accompanied the expedition to the Rio Grande, returning to San Antonio upon its disbandment. He also scouted for the Mier expedition, attempting to dissuade its leaders from pursuing their ill-fated venture.
Hays' enduring legacy includes actions at various locales: Warin; Bandera Pass; Enchanted Rock; Sister's Creek, above Seguin; Anna Dulee; Paint Rock, among others. He relentlessly pursued the Comanches, dealing severe blows to them for their attacks on settlements. He also vigilantly tracked and fought Mexican bandits.
The Mexican-American War:
When the war with Mexico began in 1846, Hays commanded a ranger battalion, holding the rank of major. He was later authorized to raise a regiment to serve under General Taylor for six months, amassing a force of 1,300 rangers. These troops, including notable figures such as Ben McCulloch and Tom Green, provided vital scouting services before the Battle of Monterrey. During the battle, they played a pivotal role in capturing key locations, ultimately contributing to Monterrey's capitulation. Hays' regiment was mustered out in May 1847, but he remained in Texas to oversee its continued protection, albeit declining re-election.
Further Adventures:
In August 1848, Hays embarked on an exploratory mission to establish a route between San Antonio and El Paso. Although the government supported the project, it ended in disappointment due to lost guides, with the party only reaching Presidio del Norte after six grueling months.
In July 1849, Hays led a group of emigrants bound for California via El Paso, escorted by U.S. troops. Their journey was marked by hardship, and they reached San Diego in late December. From there, they sailed to San Francisco, arriving on January 10, 1850.
Life Beyond the Frontier:
Hays was welcomed by old friends and urged to accept the position of city marshal in San Francisco, which he did. He subsequently became sheriff of the city, serving two terms. In 1852, he, along with others, purchased a significant tract of land on the eastern shore of San Francisco Bay, founding the city of Oakland. President Pierce appointed Hays as the United States Surveyor of California, a position he fulfilled to the satisfaction of the people. Later, President Buchanan named him Surveyor General of Oregon.
Hays remained active in politics, deeply committed to the Democratic Party's success. He even attended the National Democratic Convention, where Samuel J. Tilden was nominated as a presidential candidate.
Legacy and Later Life:
Hays built a beautiful home on a farm in the foothills of Alameda County, north of Piedmont, where he lived until his passing on July 25, 1883, at the age of sixty-four. Posthumous eulogies published in California newspapers hailed him as a remarkable man, one of the most notable in the state's history.
Colonel John S. Ford, who served as adjutant in Hays' regiment under General Scott, emphasized Hays' bravery and leadership qualities. He described Hays as a modest, honorable, and courageous man who left a significant mark on Texas history.
General Henry McCulloch also spoke highly of Hays, praising his enduring legacy as a commander, citizen, and soldier.
Jack Hays' contributions to the Republic of Texas, the Mexican-American War, and the state of California left an indelible mark on history. His leadership and valor remain a testament to the spirit of the Texas frontier and its enduring legacy.
---
‹ Back