Blog
"The Remarkable Life Story of Quanah Parker
"The Remarkable Life Story of Quanah Parker"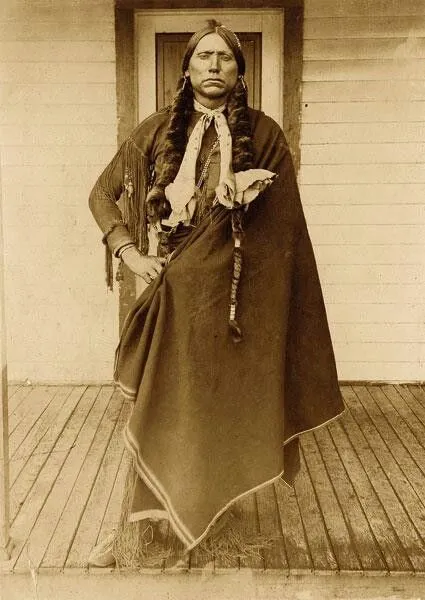 Quanah Parker, the celebrated Comanche chief, passed away suddenly at his home on the Comanche reservation, located four miles west of Cache, Oklahoma, on February 23, 1911. He had a truly extraordinary life. Parker was born in 1844, the son of Peta Nocona, a renowned and fierce Comanche chief, and Cynthia Ann Parker, a white woman from a pious family near Groesbeck, Limestone County, Texas. Cynthia Ann was captured by Comanches and Kiowas led by Peta Nocona in 1836, eight years before Quanah's birth.
Before 1847, when the Comanche tribes were restricted to government-prescribed reservations, Quanah's life was marked by scenes of violence and bloodshed. He witnessed and participated in numerous deadly encounters between his father's Comanche people and the white settlers to whom his mother belonged.
The story of Quanah Parker's life truly begins in 1833 when his maternal grandfather, John W. Parker, and her father, Silas M. Parker, along with several relatives, emigrated from Cole County, Illinois, to Texas. They settled in Limestone County, near the present site of Groesbeck. This pioneer community, known as Parker's Fort, was situated on the west side of the Navasota River and remained peaceful as they cleared land, cultivated crops, and lived off the plentiful game. However, the outbreak of the Texas Revolution in 1836 forced them to abandon their homes temporarily and seek refuge on the Trinity River due to fears of Mexican forces and their Indian allies.
After General Sam Houston's victory at San Jacinto, the settlers returned to Fort Parker, unaware that a tragic fate awaited them. On May 19, 1836, the fort was attacked by a band of Indians, resulting in the deaths of several settlers, including Quanah Parker's grandfather, father, and others. Cynthia Ann Parker, along with other women and children, was taken captive.
In the chaos that followed, Cynthia Ann and her daughter, Prairie Flower, were separated from the rest of the captives and eventually integrated into Comanche life. Prairie Flower passed away in 1864, and Cynthia Ann in 1870; they were buried in Foster's graveyard in Henderson County, Texas. Quanah Parker later reinterred his mother's remains near his home in Cache, Oklahoma, in 1910.
Quanah Parker was a striking figure, tall and commanding, with a strong physique and piercing eyes, embodying the image of a warrior. He possessed wisdom and prudence, acting as a bridge between his Comanche heritage and the rapidly changing world around him. As the head chief of the Comanches, Kiowas, and Apaches at the time of his death, he played a pivotal role in pacifying his people and encouraging them to adapt to reservation life. Parker believed strongly in education, and several of his fifteen children received college educations.
His dedication to peace and understanding between cultures earned him respect, and he traveled widely, gaining insight into the ways of the white settlers. In a speech he delivered at the Dallas Fair, he remarked on the similarities between individuals of different races, noting that some people, both Native American and white, were "no good," emphasizing their shared humanity.
Quanah Parker's legacy extends to the naming of Parker County in honor of his mother's family and Quanah, Hardeman County, named after him. His influence on his people, his commitment to education, and his role as a bridge between cultures make him a remarkable and enduring figure in history.
---
‹ Back