Blog
Sam Bass Song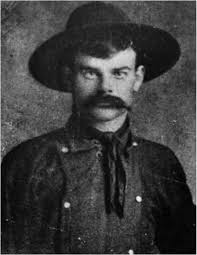 Frontier Times has received a number of requests from subscribers, asking for the song, "Sam Bass." Recently we found this song in the Dallas Semi-Weekly Farm News. It Is believed to be the complete and correct version. Thirty years ago this old song was heard around every hearthstone and beside every campfire on the range. Many of our older readers remember the tune:
Sam Bass was horn in Indiana,It was his native home;And at the age of seventeenYoung Sam began to roam.He first came out to Texas,A cowboy for to be;A kinder hearted fellowYou'd hardly ever see.Sam used to deal in race stock,One called "the Denton Mare,"He matched her in the scrub races-And took her to the fair.Sam always coined the moneyAnd spent it mighty free;He always drank good liquorWherever he might be.Sam Bass had four companions,Four bold and daring lads.Jim Murphy, Jackson, Underwood,Joel Collins and "Old Dad."Four bolder, reckless cowboysThe wild West never knew;They whipped the Texas rangers,And chased the boys in blue.Sam left the old Joel Collins ranchIn the merry month of May,With a herd of Texas cattle,The Black hills for to see.They sold out at Kansas CityAnd then got on a spree.A tougher lot of cowboysYou seldom ever see.
_____________________________________
_____________________________________
They started back to TexasAnd robbed the U. P. train,Then split up into couplesAnd started out again.Joel Collins and his partnerWere overtaken soon,And with all their hard-earned moneyThey had to meet their doom.Sam Bass got back to TexasAll "right side up with care,"He rode right into Denton,His old friends met him there.Sam's life was short in Texas—Three robberies he did do,He robbed the Longview passenger—The mail and express, too.Sam had another comrade,Called "Arkansaw' for short,He was killed by a Texas rangerWho thought it was great sport.Jim Murphy was arrested,And then released on bail.He jumped his bond at TylerAnd hit the Terrell trail.But Major Jones had posted Jim,And that was all a stall—It was a plan to capture SamBefore the coming fall.Sam met his fate at Round RockJuly the twenty-first.They filled poor Sam with bulletsAnd emptied out his purse.Now Sam is a decaying corpse.Down in the Round Rock clay,While Jackson's on the borderA-trying to get away.Murphy borrowed Sam's good moneyAnd did not want to pay.So he set out the game to win,By giving Sam away.He sold poor Sam and also BarneAnd left their friends to mourn.Jim Murphy will a roasting getWhen Gabriel toots his horn.Some think he'll go to heaven,For none can surely tell,But if I'm right in my surmiseNo doubt he'll go—the other way
*************
"Sam Bass Song" is from our new ebook,
The History of the Life of Sam Bass
, available here for FREE
Download instantly your searchable copy which is a collection of all the major articles pertaining to Sam Bass as printed in J. Marvin Hunter's FRONTIER TIMES magazine, between the years 1923-1954.
---
‹ Back