Blog
Frio County History - Mrs. W. A. Roberts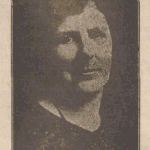 We offer first, an introduction to the author, Mrs. W. A. Roberts, followed by her actual account of very early days in Frio County, TX.
[From J. Marvin Hunter's Frontier Times Magazine, June, 1936]
In this number of Frontier Times appears a well written history of Frio county, by the pen of Mrs. W. A. Roberts, which our readers will find interesting. For more than forty years Mrs. Roberts has been postmaster at Frio Town, and is the present owner of the old Frio Town county court house, which she is thinking of converting into a museum. The following sketch of Mrs. Roberts, written by Edward Blackaller, appeared in a recent issue of the Pearsall Leader:
"Mrs. W. A. Roberts was born August 24, 1869, on La Parita Creek near Pleasanton. She later moved to La Salle county, and when she was four years old, her parents moved to Frio Town.
"She started to school when she was four and one-half years old and continued her education until she graduated from the public school. She then attended Frio Academy, which occupied the upper rooms of the court house, still standing, and was presided over by Mr. and Mrs. Hendricks. Some of the subjects taught were astronomy, geology, and higher mathematics. She later attended the Methodist College at Waco.
"October 19, 1892, she was married to W. A. Roberts. After their marriage they lived in Pearsall at the Berry house, where they stayed six months. She bought the store in the old court house from Yancey Kilgore. After leaving Pearsall, she moved to Frio Town and has made it her home ever since. From that time until now she has operated a store and post office in the court house. One son, who lives near Frio Town on Daring this time, in 1893, Mrs. Roberts has the ranch of his grandfather, W. J. Slaughter.
"Mrs. Roberts has traveled extensively in the United States, especially in the western states. She has also made several trips to Mexico.
"Mrs Roberts is an interesting person to talk to. She remembers local historical events, including Indian raids and people with uncanny accuracy. Mrs. Roberts remembers having attended a dance at Frio Town at which O. Henry, the short story writer, was present. She is sincere in her convictions, and is well informed on every day events. Her loyalty to her friends is a strong characteristic."
*********
Frio County Has a Colorful History
By Mrs. W. A. Roberts
MORE THAN TWO centuries have passed since the Spaniards and French explored our country and blazed the trail from the Rio Grande at San Juan Bautista below Eagle Pass to San Antonio, thence northwest [northeast] to Nacogdoches, San Augustine and Louisiana. According to tradition and history this road was first traveled by St. Denis in the year of 1714, and became very important. It was the original and most used route in the building of the missions at San Antonio. This trail — the historic Presidio Road—traverses the northwest corner of Frio county, created in 1858 with the town of Frio as the county seat .
The county comprising some 1036 square miles, and embracing various fertile soils, was then under the jurisdiction of Bexar county. Also at one time it, was attached to Medina and later to Atascosa counties. The name was derived from the Frio (cold) river, which winds its way through the rich land.
On June 24, 1871, the legislature ordered that B . A. Sheidley, B. M. Daugherty and John B. McMahon appoint justices of the peace, and an election was called for July 17-20. W. C. Daughtrty was then elected district clerk and E. C . Woodridge, sheriff. At their first meeting, Aug . 8, 1871, A . L. Oden was appointed to lay off the town of Frio, in Frio county. The sale of lots was advertised in the San Antonio Express, to take place Oct. 3, 1871. The town was founded on the Frio river, just below the Presidio Crossing, a beautiful spot. The original crossing is still used, being maintained by the ranch people of the vicinity.
Here, too, is handed down by tradition that Santa Anna, with his army, spent some time in resting before his final march to the Alamo. Also a story is told of a battle in Elm Valley, nearby, where many years ago gun barrels were found. In 1900, a Mexican unearthed a gun and pistol with flintlocks, a sword hilt, decayed bones and bits of military uniform. The sword hilt bore insignia of Spanish or Mexican origin.
Later in 1836, Santa Anna with his troops entered Texas by way of the Presidio at San Juan Bautista; also, when General Woll invaded Texas in 1842, he entered and departed by way of Presidia at this point; then again General Ugalde (Uvalde) with several hundred troops crossed the Rio Grande into Texas at the same place to chastise a band of Indians, and a battle was fought somewhere near this vicinity. It is possible this forgotten battle field could be traced to any one of these events. Many fights occurred which were not chronicled in history.
The Yo lo Digo Creeks tributaries of the Leona river, it is said, received their name from the following incident: Mexican troops were camped near Elm Creek. Sentinels were stationed on the highest hill near where these creeks have their source. For some reason the sentinels failed to detect the approaching enemy. As the sleeping soldiers were charged, too late the warning was given. Someone asked, "Who said s?" Another replied, 'Yo lo digo. " (I say it.) Berry Creek, another tributary of the Leona, was named for Tillman Berry, father of J. E. (Jim) Berry. "Los Burros" or Jack Creek received its name from a band of wild "burros," that ranged along the creek. Also at an early day, Frio county had great numbers of wild horses, as well as Mexican or long horned cattle. There are numerous legends of buried treasure, still unfound.
The first post office was established in the new town with the name of Frio City. L. J. W. Edwards, the first merchant was also the first postmaster. His successors were L. S. White, T. H. Rogers, J. I. Barnes, W. Y. Kilgore and the present postmaster, Mrs. Artie C. Roberts, whose commission is dated June 6, 1893. First mail was carried by W. C. Randle on horseback from Benton City. Later a contract was awarded to Lee McCaughan to carry it from San Antonio by stage.
November 28, 1871, the county court ordered that W. C. Daugherty receive bids on a 20x40-foot "California" house, with a 10-foot partition, this to be used as a court house. The contract was awarded to L. J. W. Edwards. In January, 1872, this structure was built out of lumber cut from cypress trees that grew along the Frio river and was roofed with shingles made near by. The lumber, bought of John Leakey, was trekked by ox wagon some eighty-five miles. Mr. Leakey owned a sawmill where the town of Leakey now stands. Later E. J. Emsley was employed to "whitewash" the court house inside and out for the sum of $20.00 in coin.
In 1877, that building was destroyed by fire, and in 1878 was replaced by a two-story edifice of native stone architecturally beautiful in its simplicity. The stairway with its gracefully curved railing of walnut is greatly admired to this day. The contractor's bid on this building was not sufficient to meet his obligation. W. J. Slaughter, one of his bondsmen, assumed full charge, completing the building at his own expense.
The first jail of stone was built by Dempsey Forrest in 1872. Before completed, it was voted that the upper story be built of stone instead of wood as was originally planned. This was to be used as a jury room. The walls of the building are still standing. Many notorious characters of early days were locked within its walls, among theta Sam Bass, Jesse and Frank James, these not for criminal but for minor offenses.
In 1872, roads were marked out from Frio City to various points. A crossing made on the southwest bank of the Frio river, intersecting the street opposite the courthouse square, was known as the San. Antonio Crossing.
The first grave in the Frio City cemetery was that of Calvin Massey, killed by Indians; the second, of Wesley Hiler, age seventeen, son of W. S. Hiler, killed by a horse. A number of Indian victims are buried therein, their graves unmarked and most of them forgotten.
In the spring of 1873, Mrs. Ed Massey saw the Indians kill her father-in-law, Calvin Massey. Unaided, with her three small children, she managed under cover of the Frio river bank to reach the town in safety. The Indians, forty-five in number, were followed but made good their escape.
In the fall of 1876, an Indian raid, carrying devastation and great loss of life, occurred. At break of day, Billie Allen and Jim Berry were holding a herd of cattle near the Indian Crossing on the Frio river just above the mouth of Elm Creek. Jim Berry, before seeing them, rode within twenty-five yards of sixteen Indians, lined abreast. On sight, he turned, making his way quickly to the Live Oak motte nearby. (Jim Berry did not count the Indians! Another man did.)
For some unaccountable reason, the Indians did not molest the men, but turning, went on up the creek to W. J. Slaughter's sheep camp where they killed William Rittberg, the foreman, and four Mexican herders. Going on to the Leona valley that same day, they killed Mr. Butler and Nick Brian who were employed by Mont Woodward, W. J. and C. H. Slaughter. In fact, in 1876 the Indian raids were so frequent that the citizens felt their inability to cope with them and called on the State for Ranger protection.
Major John B. Jones marched his escort company to Frio county. About December 15, 1876, Company "A" with Neal Coldwell as captain, made camp on Elm Creek, three miles southwest of Frio City; hence, the historical "Ranger Camp" whose site was on the south bank of Elm Creek in a fine grove of elm and oak. A short distance from the camp was a beautiful level prairie known as "Soldier's Prairie," on which the Rangers made a race track where they exercised their horses and where they whiled away many pleasant hours. Capt. J. B. Gillett, now the only known survivor of this company, is authority for the above.
The last raid in the early spring of 1877 was made on the Caven Woodward and Louis Oge ranch. Fifty head of horses were being driven away. A party of men were in pursuit. The Rangers were notified, and were also in close pursuit. The Indians realizing their inability to escape, left the horses and rode rapidly away. No lives were lost in this encounter.
More than one time the settlers were forced to bring their families into Frio City for protection, finding refuge in the court house and in the homes of friends. In 1878, a lone Indian slipped into the Mexican section of the town. Sheriff J. C. B. Harkness, with a number of citizens rushed to the scene. During the excitement over the accidental discharge of the sheriff's gun, which caused the loss of one of his toes, the Indian quietly disappeared. Thus the fear of the savage Indians passed almost as quietly and peacefully as did the lone Indian.
Among those who preached the gospel to the early settlers were the Reverend William Monk, John W. DeVilbiss, W. C. Newton and the well known fighting preacher, A. J. Potter. Also, later, D. Johnson, J. M. Neatherlin and J. C. Russell. Early in Jane, 1880, seven men journeyed on horseback to Frio City and in the courthouse, organized the Rio Grande Baptist Association. E. A. Briggs of Benton City was chosen moderator and C. B. Hukill of Black Creek, clerk. The fiftieth anniversary of this organization was celebrated June 5-6, 1930, in the old courthouse and in the grove adjacent.
Those who gave aid to the sick and injured were Dr. E. W. Earnest, Pr. Amos Graves and the much-loved little woman, Mrs. Minerva Slaughter, wife of Benjamin Slaughter. Her name was a household word and her hand soothed many a fevered brow.
Schools were not neglected. Very early the following school directors were appointed for the different school districts: S. O. Speed, J. G. Woodward, W. S. Hiler, R. B. Whitter, Alvin Hotrey, J. W. Craig, Geo. Brown, P. E. Wilson, R. S. Ragsdale, John Walden , Joe Adams, J. W. Jones, J. E. Roberts, Silas Hay and Andrew Everett.
The first school was taught by J. M. Ellege. Other early teachers were Mr. and Mrs. Kingsbury, Miss Mary McGee, Dan T. Price and Mrs. A. E. Coates. Later Frio Academy was founded with B. C. Hendrick as principal and Mrs. Hendrick, assistant.
Tillman Berry came to Frio county in 1858. Dick Thompson, B. L. Crouch, Louis Oge, Mont and Caven Woodward, H. M. Daugherty, W. S. Hiler and many others were here at an early date.
During the trail driving days vast herds of cattle were sent out of Frio county by such cattlemen as Captain B. L. Crouch, Caven Woodward, Louis Oge, J. H. Blackaller, W. J. and C. H. Slaughter and others. Driven by st.ch cowboys as J. J. Roberts, M. Taylor, J. H. Loxton, J. H. Cook, B. I. Gilman, J. J. Little, Billie Henson, W. A. Roberts and others.
Various symbols, letters, figures and combinations of these made the brands of the cattlemen. The "Heart' ' brand of Tillman Berry, "T Diamond' of W. J. Slaughter, ZH of W. S. Hiler, OL of Caven Woodward were among the first placed on record and are still used by the descendants of these early citizens. Other ranch brands were UL bar, and UL of J. H. Blackaller and 2A of J. E. Roberts. Trail or road brands were placed on all cattle sent up the "trail"—that of W. J. Slaughter "Diamond" and 7P, and of B. L. Crouch a bar from shoulder to flank on both sides of the animal, of Caven Woodward Y at the point of the shoulder and Lazy Y on the loin, and Jo of J. H. Blackaller.
The early settlers were not without public enterprise. Building material had to be trekked many miles; therefore soon there were established a shingle mill, brick factory and lime kiln, thereby utilizing the natural resources of the country .
During the interim of 1858 to 1871 when Frio county was formally organized, Indians made numerous raids. Early one morning in the spring of 1860, Leonard Eastwood, John Speers, and R. A. Sanders rode off to their work. Mr. Eastwood and Mr. Sanders were killed by a raiding band of Indian; Mr. Speers, though wounded, succeeded in reaching the home of Levi English, near a place still known as the English Crossing on the Leona river.
In October, 1861, a large band invaded the country, and in their wanton role of death and destruction, not only was there great loss of human life but much loss of stock killed and stolen. At this time "Mustang" Moore and James Winters were killed near the present town of Moore; Dr. Thomas Speed and L. T. Ward were wounded. Others engaged in this encounter were James Craig, James Bishop and Norville Kennard.
July 4, 1865, Indians chased Ed Burleson, but he managed to reach his home in safety. The following neighbors started on the trail of the redmen: namely, Levi English, A. L. Franks, G. W. Daugherty, A. D. Aiken , Ed Burleson, W. C. Bell, Dean Oden, Bud English, John Berry, Frank and Dan Williams. A fight ensued in which Dean Oden, Dan Williams and Bud English were killed. Five others were wounded and only three escaped unscathed.
Dean Oden, with his two comrades who fell on this fateful day rest in a long deserted and almost forgotten cemetery near the old Martin ranch, located above the mouth of the Leona river and a short distance above and overlooking present Frio State Park.
About 1876-1877, the Bennett settlement on the Leona, named for Hamilton Bennett, became a thriving community. An irrigation project was contemplated, a dam and canal was about completed, when floods swept the dam away, which was never replaced.
In 1878 a post office was established by name of Hamlin. This was soon discontinued. At the Bishop Hollow settlement, a few miles from the present town of Pearsall, a post office was established in 1878 by the name of Ireland, although it was also known as Pencilville. This office was discontinued in 1881.
Another important neighborhood, near the line of Frio and Medina counties, was the Tehuacana settlement, located along the Tehuacana Creek. The Live Oak settlement on the Live Oak Creeks has long since been abandoned. It was located near the center of the vast ranch of Captain B. L. Crouch, now owned by Halff and Oppenheimer.
Many Mexican war veterans were early settlers of Frio county, among them Benjamin Slaughter, William A . A. Wallace, James W. Winters and James Winters. Benjamin Slaughter with a band of followers, left Mississippi January, 1836, for Texas to join the forces in the field. When within a short distance of Houston, they learned of the complete victory over the Mexican army. Later he served in Captain Hill's company, Colonel Hays' Regiment, Texas Mounted Volunteers. James Winters, a valiant San Jacinto veteran, was killed by Indians.
James W. Winters, who fought in Tennessee, January 21, 1817. He came to Texas in 1834 and to Frio county about 1880, died October 15, 1903, and is buried in the Brummett Cemetery near Big Foot, Texas.
William A. A. (Big Foot) Wallace figured largely in Frio county history. He was born in Lexington, Va., April 3, 1817. He came to Texas in 1836. He was known as a great Indian fighter and ranger, a man of fine character and indomitable courage. A participant in many fights with Mexicans and Indians, he miraculously escaped in many dangerous encounters. "Captain," as his friends called him, was a welcome visitor in every home. His friendly benevolent manner won many friends. Children, as well as older people, gathered near him and all were eager to hear him relate his interesting experiences.
Often he told the story of when he and Benjamin (Ben) Slaughter were prisoners together during the Mexican invasion of Texas. The Texas prisoners were forced to draw heavy loads of stone for building construction. Ben Slaughter, with his great sense of humor, would soon have the Mexican guards convulsed with laughter; yet he gained great favor and was one of the first prisoners exchanged. With a smile of reminiscence, he would say, "We broke up many a cart and tore up lots of harness. "
William A. A. Wallace died January 9, 1899. His body was first interred in Longview Cemetery at Big Foot. Later it was removed to Austin and now rests in the State Cemetery.
The town of Bigfoot, named for "Big Foot" Wallace, was established about 1880. It is an interesting place with much early history. The present residents are mostly descendants of the early citizens; namely, John Brummett, John Thomas, Peter Gardner, Bob Dixon, J. A. Leach, George Henson and others. Located near is the Brummett cemetery. The first grave therein was that of an Indian, killed, so the story goes, in a fight with the whites and given a civilized burial by the settlers.
Until 1878-1879 the country was unfenced. At this time cattlemen began to fence their holdings. This displeased those who were reaping the benefits of free range. Consequently, the fence cutters (Free Grazers, they styled themselves) organized and destroyed many miles of fence. This act of destruction ceased in 1884, when a law was enacted by the legislature making fence cutting a penitentiary offense.
In 1880 a survey was made and the International and Great Northern Railroad (now the Missouri Pacific) extended its main line through Frio county, missing Frio City. On July 4, 1881, the first passenger train pulled into the newly founded town of Pearsall. On this day lots were sold. The first offered, that on the corner opposite the railroad station was sold to R. G. Long. The town was located on the site of a large sheep 'ranch'. This place was known as Waggoner's Well. At this time the rolling prairie country was covered with a luxuriant growth of sage grass. Prairie fires were of frequent occurrence. The grass became ignited from a camp fire and fanned by a brisk treeze, was soon a sweeping flame. Many of the new residents had a hard fight to save the lumber for their new homes.
Again the sound of the hammer was heard in Frio City, a thriving town of one thousand people or more, but this time it was laying low the houses and moving them to Pearsall, thus ending the fair little city. In 1883 the county seat was moved from Frio City to Pearsall, and in 1886 the name of Frio City was changed to Frio Town.
At Pearsall, a temporary courthouse was built of lumber. In 1904 the present brick building was erected—also the present jail is of brick. With the two temporary lumber buildings considered, Frio county has had four court houses.
Pearsall has had steady growth with substantial business houses and many, pretty residences.
Dilley, Derby, Melon and Moore are towns along the railroad. Dilley, the second town in size, is an enterprising and growing town. Moore was named for "Mustang" Moore, who was killed by Indians in 1861.
In 1879 John Bennett moved where the town of Derby now stands. He was an engineer in the survey of the railroad line in 1880. His descendants are now living at Derby, which Mr. Bennett named for his old home in England.
Miguel, Sand Hollow, Keystone, Orelia, Divot and Schattel are important farming and stock-raising communities.
Since 1858, when the county was first created, to the present time, the mode of travel, in regard to speed, has been reduced from weeks to hours.
After these courageous men of the early days had made the county safe, paving the way for the present peace and civilization, their children have not stood still. Although the ranches have been cut into smaller tracts, and the herds of cattle reduced in number, the cattle are better bred. Much land has been turned to cultivation, many acres to truck farming, irrigated from a vast underground supply of water.
At present, there is an interesting development in oil, and Frio county has promise of becoming a great oil field.
PURCHASE A PIECE OF HISTORY
---
‹ Back